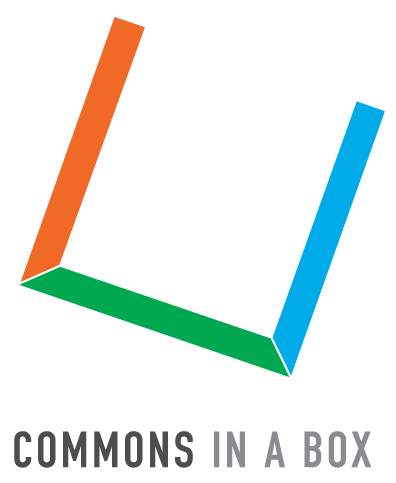 In November of 2011 the CUNY Academic Commons announced that it would begin work on creating a standalone version of the Commons.  With generous support from the Alfred P. Sloan Foundation and the encouragement of our friends and colleagues, the CUNY Academic Commons team is delighted to announce that Commons In A Box is now freely available to all through our website, commonsinabox.org, and the WordPress plug-in directory.  We welcome the Modern Language Association as they adopt the Commons In A Box platform and congratulate their launch of the MLA Commons.
For those who are new to the community, or only now learning about Commons In A Box, the platform combines  features originally developed for the CUNY Academic Commons and bundles them to give users of all skill levels the ability to create and host vibrant online communities with complete user control.  Built upon the WordPress and BuddyPress platforms, Commons In A Box, or CBOX, allows the members of a community to create personal profiles, join or create groups to facilitate collaboration, and set up blogs to promote work, events, and conferences.  CBOX also provides:
Out-of-the-box functionality with an intuitive set-up that guides site administrators through each step of installation.
A powerful, responsive, highly customizable theme developed for community engagement.
Responsive design for easy viewing on many devices, including tablets and smartphones.
Collaborative document creation and file sharing.
Reply-By-Email functionality for quick, on-the-go communication.
Compatibility with many other WordPress and BuddyPress themes and plug-ins.
Expansive wiki options.
The Commons In A Box project looks forward to building a vibrant community of developers and users who will contribute to the growth and innovation that has driven the CUNY Academic Commons and made this project possible.  The CBOX team encourages you to join the community at commonsinabox.org and share your experience with others who are new to the platform.  We invite you to follow CBOX on twitter to stay in touch as we grow and release new versions.
Commons In A Box is the fruit of our community's extraordinary efforts to build a vibrant, living space on the web.  Through this process we have been given the opportunity to meet and work with the amazing combo of Bowe Frankema and Marshall Sorenson at PressCrew and thank them for their passion, humor, and dedication to bringing this project to life.  The CBOX team would also like to thank the City University of New York, the leadership of CUNY's Committee on Academic Technology, André Pitanga and the CUNY Graduate Center, the tireless work of the CUNY Academic Commons' Development Team, the Commons' Community Team, and all of the proud members of the CUNY Academic Commons.